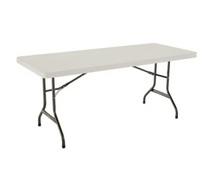 Commercial 4' banquet table
Our 4 foot wide banquet table is perfect for use as a kids table or as a food serving table. Lotza Party's 4' banquet tables are commercial grade and are available at the lowest prices in the area. Looking to save some extra cash? We offer pick up rates as an added value to our customers. Elastic table covers are available at check out. These covers are perfect for parties. These covers alleviate the use of table clips and covers blowing in the wind. Make sure you book our 4' banquet table rentals early. Our table and chair rentals are very popular in the spring and summer.
All day rental of 4 foot table
Commercial grade for durability
Energetic cast members to set up and remove your party rental equipment.